Immediate Responder Life Saver
Course Description:
Whether a vehicle crash, incidents involving heavy equipment or public transportation, injuries from natural disasters, or injuries from active shooters or active violence events you are the first one there. Not the Police, not the Firefighters, and not the Paramedics…You. In the Immediate Responder Life Saver Course, you will learn how to treat yourself and your loved ones during a traumatic event.
Using lifesaving techniques proven in the field by military, law enforcement, and everyday citizens you will learn how to utilize the Public Access Bleeding Control Kit (PABCK) and the MARCH Algorithm developed by the military to provide lifesaving emergency treatment to yourself, your loved ones, or others. Don't have a Med Kit Handy…well shame on you. But we will also show you how to improvise using everyday stuff that you have lying around or can find when the moment is upon you. During the scenario-based portion of the training you will learn what to do during direct threat situations and how to move patients to a safer place. Then you will put it all together utilizing the PABKC as well as improvised items to treat the injuries.
RED Training provides two options for this course. With the price of option one you will receive an Advanced Public Access Bleeding Control Kit as well as the course instruction. Option two will include the course instruction only.
The Public Access Bleeding Control Advanced Kit includes:
1 Combat Application Tourniquet
1 Responder Emergency Trauma Dressing 6"
2 Pairs of Responder Nitrile Gloves
1 Hyfin Vent Compact Twin Chest Seal
1 Combat Gauze LE
1 Trauma Shears Large
1 Just in Time Instructions
1 Permanent Small Marker
1 Survival Blanket
Join RED Training to ensure that you are Ready Every Day to protect yourself and your loved ones!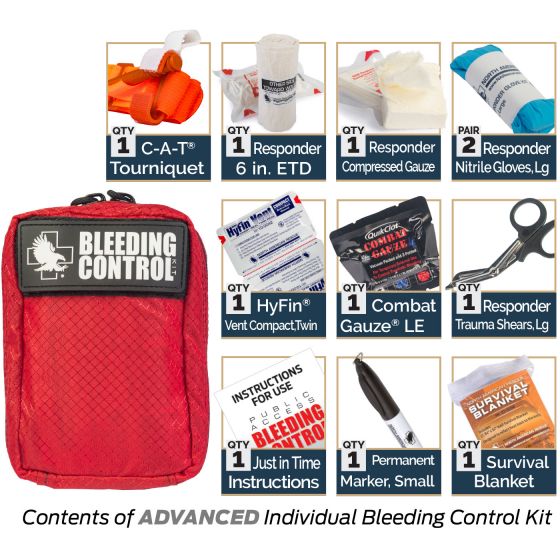 Stop the Bleed
Course Description:
Through our STOP THE BLEED® course, you'll gain the ability to recognize life-threatening bleeding and intervene effectively. The person next to a bleeding victim may be the one who's most likely to save him or her. Take the course and become empowered to make a life or death difference when a bleeding emergency occurs. STOP THE BLEED®. Save a Life!

Range Emergencies
When we think of emergencies on the range the first thing that comes to mind is usually a gunshot wound.  But in real life those incidents are far and few between.  A person is more likely to experience a medical emergency of some sort.  Whether it's a heart attack, stroke, anaphylaxis, or asthma you will learn how to recognize and treat it. 
But don't worry. We will also cover traumatic injuries utilizing the MARCH method proven by the military and first responders using medical kits designed to treat those injuries.
We will discuss how to set yourself up for success on the range prior to an incident happening. We will also discuss the different types of medical kits available commercially as well as how to build your own. If you have a medical kit feel free to bring it and we will discuss the pro's and con's of what you have available. This class will be scenario based and hands on. Please come prepared and ready to participate.